Leading Japanese companies gather at ETHGlobal Tokyo What is happening currently with the merging of the enterprise and the blockchain ecosystem? - Part 2
07/06/2023
Enterprise Ethereum Stage
The ETHGlobal Tokyo Hackathon was held for four days from April 13th to April 16th, 2023. Within this event, the "Enterprise Ethereum Stage" organized by the Enterprise Ethereum Alliance Japan took place. It became a historic blockchain event where developers and researchers from large companies and public institutions, who are involved in developing and providing services and products utilizing blockchain, gathered together.
Part 1:
"Leading Japanese companies gather at ETHGlobal Tokyo: What is happening currently with the merging of the enterprise and the blockchain ecosystem? - Part 1",
Games as a service, followed by music and art
Ishii: Next, I would like to discuss "Games, Art, and Music" with Mr. Hata from Square Enix and Mr. Iwanaga from Avex. Could you please introduce your respective initiatives?
Panelists:
Keisuke Hata, Business Division Director, Blockchain Entertainment Division, Square Enix Co., Ltd.
Asahi Iwanaga, Technology Advisor, Avex Co., Ltd.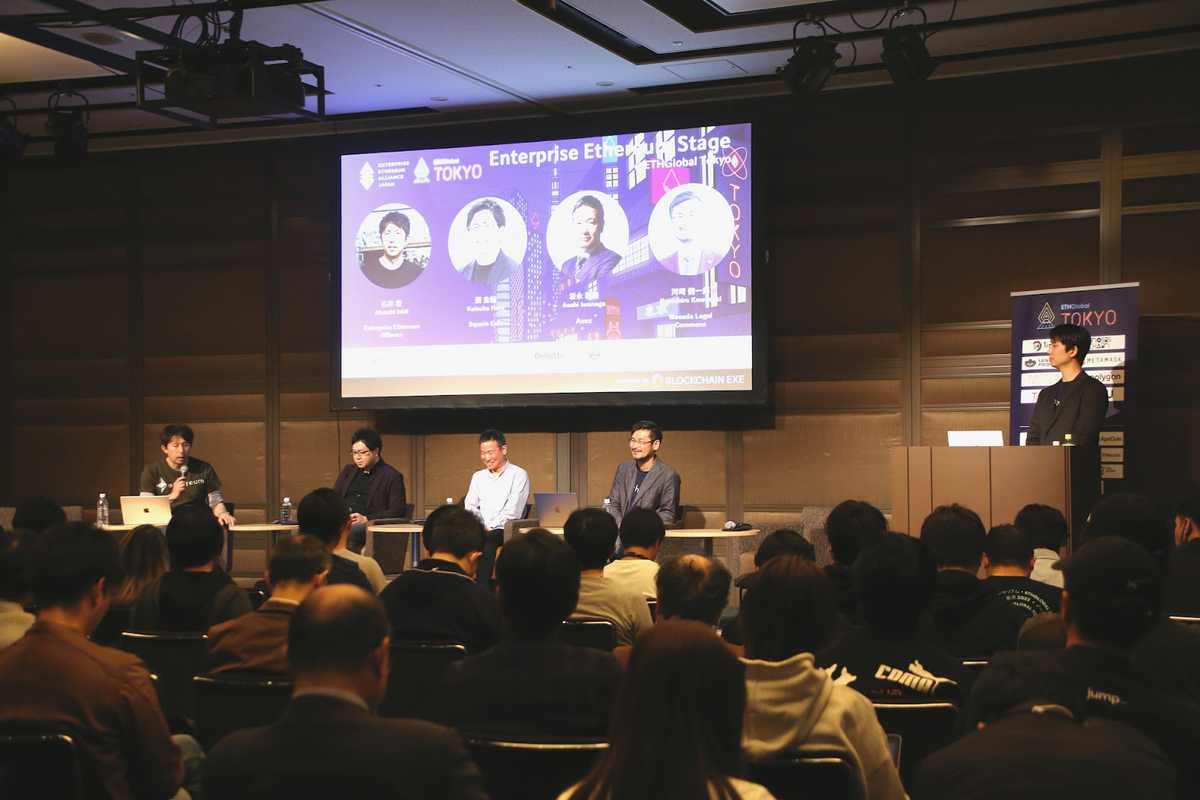 Hata: We have launched a NFT project called "Asset-based Million Arthur" using intellectual property. In October 2021, we released the first batch of NFT digital seals. So far, we have sold and issued over 140,000 NFTs, and we plan to integrate game content using these digital seals into our service in April 2023.
Additionally, we are working on a project where Square Enix combines their expertise in storytelling and world-building to create and sell 10,000 characters in the form of generative art.
Iwanaga: As a Web3 advisor at Avex, I have been involved in the development of a certificate service called "ATrust" that guarantees ownership of digital content since 2019. It is used in the music-focused NFT marketplace called "The NFT Records," where we issue NFTs for various artists.
We are also implementing a contract system called "AssetBank" to facilitate the distribution of digital assets, such as music, images, text, and 3D models that make up digital content. We have been working on initiatives to transform difficult-to-manage copyrighted content, such as dance motions, into NFTs.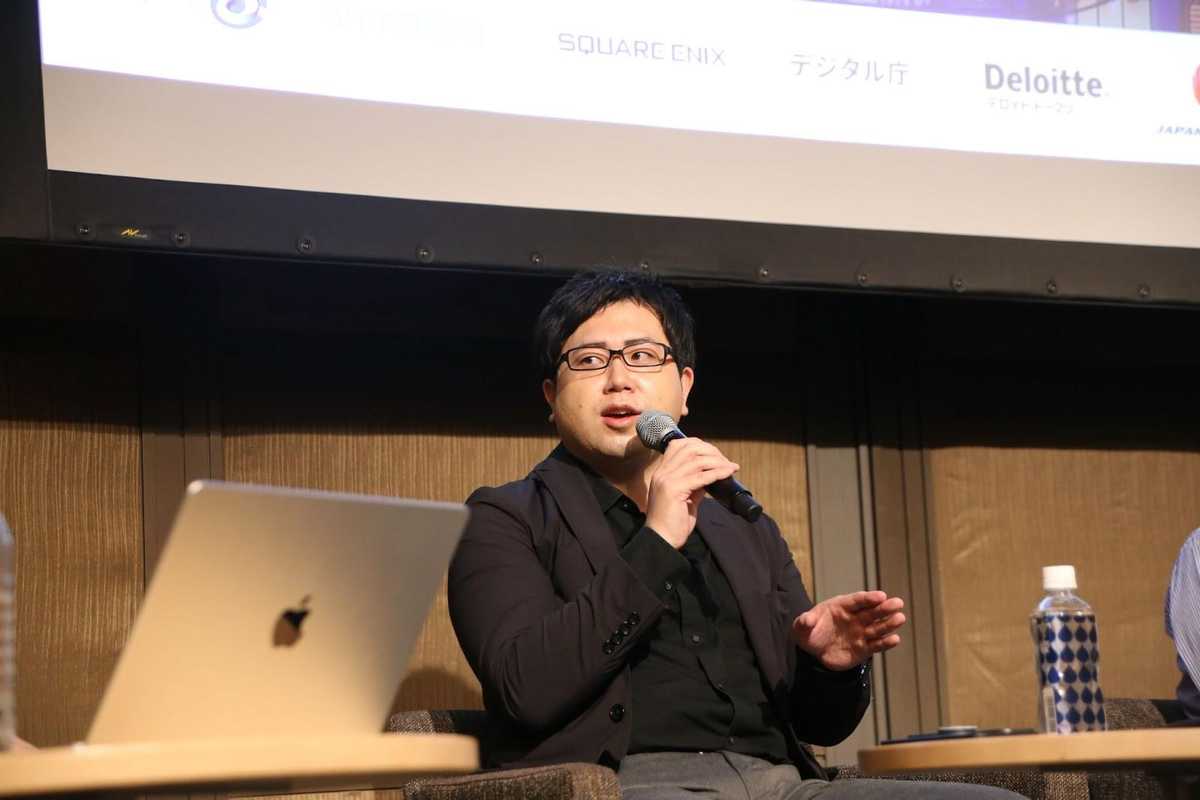 Keisuke Hata
Currently Mr. Hata is the Business Division Director of Blockchain Entertainment Division at Square Enix. He joined Square Enix in 2012 and worked as a Technical Director in the development of games and content for smartphones. He later transferred to the Business Department, where he handled negotiations and external relations related to various platforms, and gained experience as a department head. He also produced Square Enix's first NFT business, the NFT digital seal "Asset-based Million Arthur," which was launched in 2021 and continues to the present.
Ishii: Among blockchain businesses, games are progressing concretely. What are your thoughts on the current market expectations and demand?
Hata: We have already launched a digital sticker called "Asset-based Million Arthur," but it is challenging to fully monetize the business with just that. In terms of costs, there is a current imbalance, and we are considering new monetization methods. In the past, games operated on the model of lending usage rights to customers. However, with the shift to customers purchasing digital assets, the value proposition becomes the most critical and passionate aspect.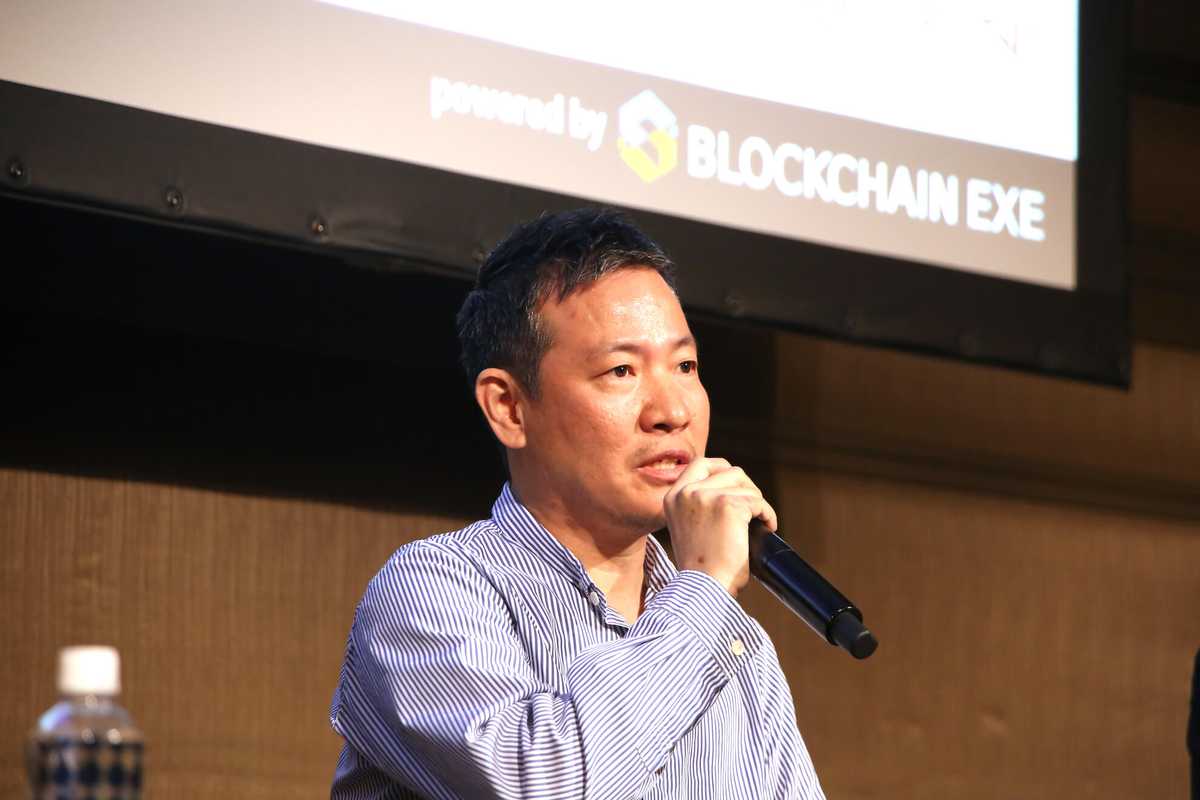 Asahi Iwanaga
Beginning in 1999 as the Technology Advisor at Avex, he participated in launching an e-commerce service at a venture company in Silicon Valley. After returning to Japan, he worked as a system developer at Hitachi and then as a product manager for 9 years in an entertainment business related to broadcasting and VOD at a NASDAQ-listed company. He further gained experience in international game publishing and other ventures. In April 2019, he became an executive officer at Avex Corporation, and in May 2019, he became the President and CEO of Avex Technologies Corporation. On June 24, 2022, he left Avex and relocated to Singapore to establish "MetaSolare" for the development of a decentralized entertainment ecosystem. He assumed the role of Co-CEO/COO/Co-Founder.
Ishii: How do you perceive the current expectations for NFTs and the demand from various artists?
Iwanaga: In the case of music as a content in interactive and user-participatory games, the expectations for NFTs differ significantly because music is passive. We are currently exploring how to engage users and create interactive communities. One notable development that has caught our attention is when Rihanna sold NFTs of her own music. It deviates from the limited ownership concept of NFTs, but it is easily understood by users, and artists attempt to promote their music as influencers to generate revenue. While there are legal implications for Japan's Financial Instruments and Exchange Act, it would be interesting to see how these movements evolve and become possible in the future.
Kawasaki: Square Enix is known for popular titles such as Dragon Quest and Final Fantasy. Do you have any plans for NFT deployment?
Hata: First, we need to consider whether it is compatible with blockchain. If users are familiar with and interested in blockchain and NFTs, then we would naturally consider it. However, it's not a situation where we can jump in all at once. We have already made announcements regarding NFTs using Final Fantasy, but there are also negative opinions, and it is an area that game users are not very familiar with.
Ishii: There are also negative opinions that blockchain could replace the fun of games with monetary value, right?
Hata: We also have concerns about excessive use of blockchain in business. Our intention is to advocate for experiences that are genuinely fun using blockchain. In "Asset Million Arthur," players can enjoy the game for free owning no NFTs. By creating digital seals and putting them on the market, they can earn money. It allows players to experience a point-earning activity similar to what stay-at-home-parents do, but in a game. So, we want gamers and even people who have never played games before to give it a try.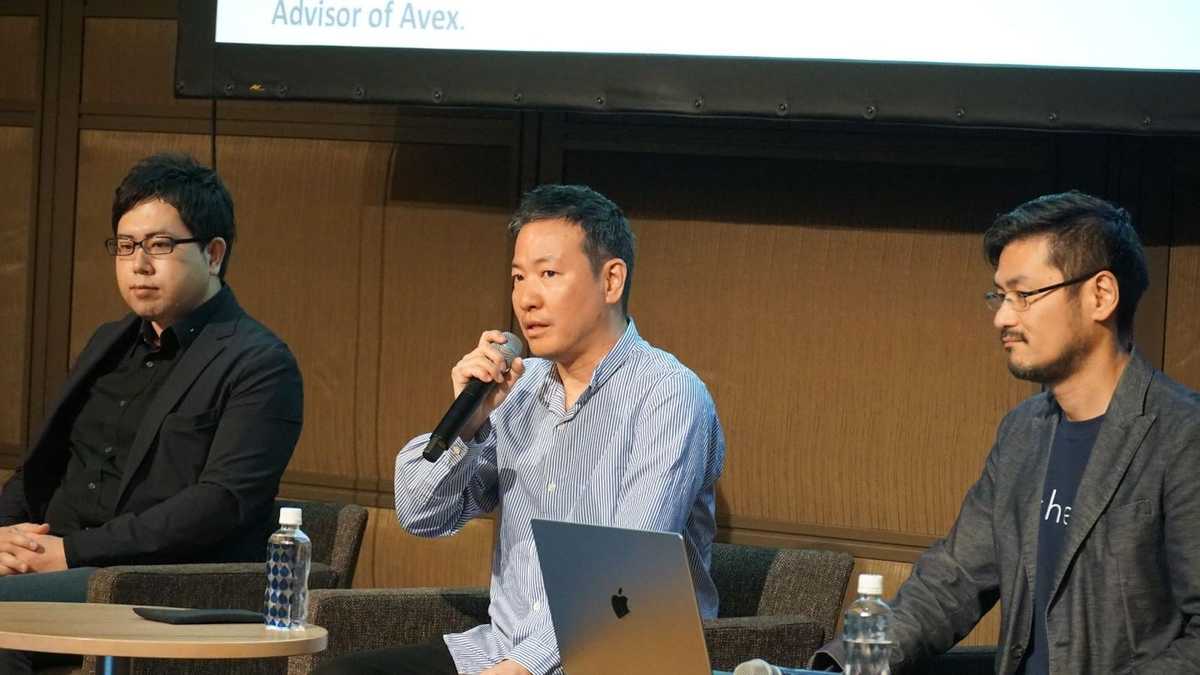 Kawasaki: What are your thoughts on the future of Web3 communities, Mr. Iwanaga?
Iwanaga: We can compare Web3 communities to fan clubs in the music industry. While traditional fan clubs focus on disseminating information to fans, Web3 communities have a unique aspect where each individual has a sense of ownership and participation. In the music industry, there is a mindset of "we must constantly entertain," but in Web3 communities, it's more about "let's all enjoy and engage together." However, it's challenging to make this dynamic fully functional. The key is how well the community members can be aligned with the operational perspective.
Ishii: It seems that creating a mechanism where the community experience can be controlled while also allowing for autonomous operation will be crucial.
The connection between tourism, regional revitalization, and government initiatives.
Kawasaki: In the final panel discussion, I would like to discuss the theme of "Tourism, Regional Revitalization, and Government Initiatives." Could each of you please introduce the initiatives you are involved in?
Panelists:
Sho Takahashi - Assistant Manager, Strategy and Planning Group, Business Creation Strategy Department, Japan Airlines Co., Ltd.
Koichi Kishii - Business Producer, Hakuhodo Inc.
Akira Nozaki - Councillor, Digital Agency
Tomohiro Kawaguchi - Senior Manager, Deloitte Tohmatsu LLC.
Takahashi: As a company focused on the aviation industry, we have been greatly impacted by recent events, including the pandemic. We are committed to exploring new business opportunities within the JAL Group as part of our mission.
Kishii: I work primarily in advertising, promotion, and marketing communication for JAL. In the KOKYO NFT project, I am collaborating as a partner with JAL to contribute to the business development.
Nozaki: I am responsible for Web3 and AI, and last year, in collaboration with Mr. Kawaguchi from Deloitte, we published the "Web3 Research Committee Report."
Kawaguchi: If Web3 and blockchain services are considered "cars," I am working on building the "roads" for these services. I believe it is important to engage in creative activities myself, and I have provided support for the development and practical application of Visual Voice's Global Cinema NFT initiative, from concept to implementation.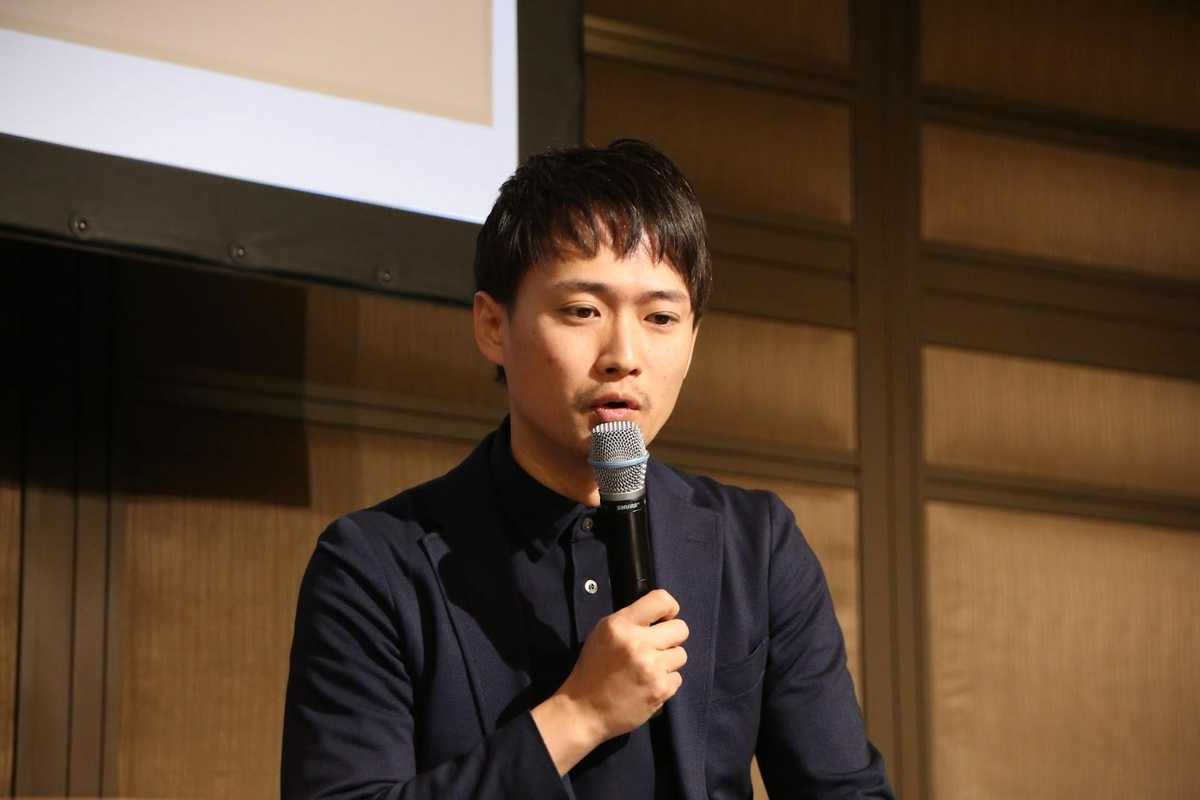 Sho Takahashi
As the Business Creation Strategy Department Manager at Japan Airlines Co., Ltd. Mr. Takahashi has experience in travel agency reservations and sales, as well as general affairs at the London branch, he has been in his current position since March 2021.
Kawasaki: May I ask about the KOKYO NFT project being pursued by JAL?
Takahashi: The KOKYO NFT project aims to utilize assets in various regions of Japan to increase engagement and connection with those communities. Currently, many regions in Japan are facing population decline, and through our NFTs, we aim to attract attention to local farms and expand connections both domestically and internationally, ultimately revitalizing these regions. One of the NFTs we are selling features Amami City in Kagoshima Prefecture. We have collaborated with a local black sugar shochu brewery, and NFT holders can take part in the aging process of the shochu together with us.
Kawasaki: So, it's about creating a lasting relationship rather than just a one-time travel experience, and blockchain technology plays a valuable role in that.
Takahashi: Indeed, the compatibility with the community is crucial. To encourage people to visit repeatedly, there needs to be a reason beyond attractive assets. The most important aspect is the connection with people. Through these connections, love and affinity for the region deepen. In this project, we used NFTs as a means to foster those connections.
Koichi Kishii
Mr. Kishii joined the company in 1995 as the Business Producer at Hakuhodo, Inc. after working in human resources and corporate planning management roles, and moved to a sales position in 2002, where he is currently.
Kawasaki: How do you think about initiatives involving local governments, Mr. Kishii?
Kishii: It's quite challenging to involve them in the current situation. In this demonstration experiment, the crucial players and partners are local governments and local businesses. Although we are not talking about all local governments, it can be difficult for them to understand blockchain and digital literacy.
Akira Nozaki
He is currently a Counselor at the Digital Agency and joined the Financial Services Agency in 2000. Previously served as a Senior Policy Analyst at the Organization for Economic Co-operation and Development (OECD), General Planning Officer at the Policy Division of the Financial Services Agency, Director of the Disclosure Business Office at the Disclosure Department, and Director for Organizational Strategy and Fintech at the Financial Services Agency. He currently holds the position of Counselor at the Cabinet Secretariat and Counselor at the Digital Agency.
Kawasaki: How does Mr. Nozaki view the excitement around Web3 in the government and the Web3 Research Committee report that was published at the end of last year?
Nozaki: In April last year, the Liberal Democratic Party released a white paper, creating a momentum to make Japan a Web3-powered nation. Since then, the government has been discussing the healthy development and infrastructure preparation of Web3. Particularly, in terms of Web3 technology, the ability to design incentives using tokens enables new connections between people, which has the potential to solve social issues that Japan faces in community management. The government has high expectations for this aspect as well.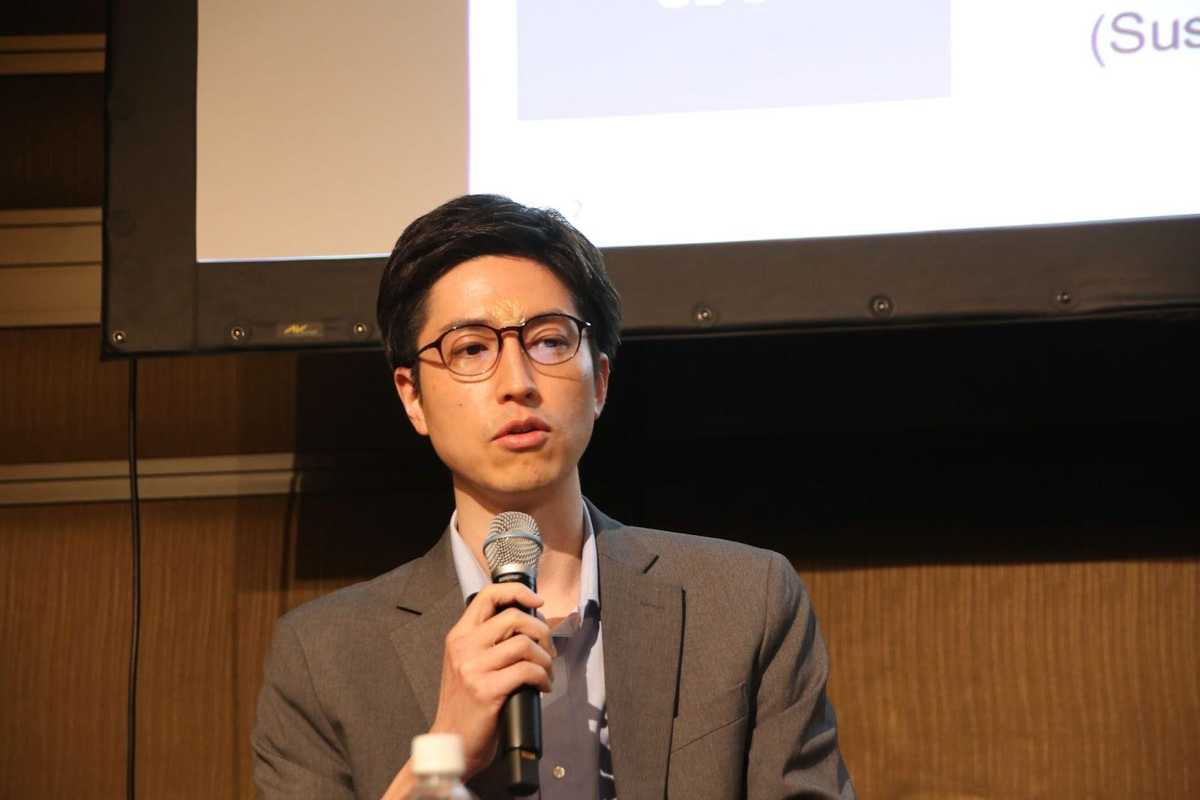 Tomohiro Kawaguchi
He is a Senior Manager in Smart Finance/Web3 & Blockchain at Deloitte Tohmatsu Group. He has previously worked at a foreign consulting firm in Tokyo and Manila before his current position. He is involved in consulting, product development, and alliance promotion in the blockchain/Web3 field. He has a strong track record of supporting business strategy formulation and technology utilization in various industries, including finance, manufacturing, entertainment, and more. He leads service provision utilizing global relationships with overseas member firms and prominent tech companies, and he is well-versed in international affairs, holding an INSEAD MBA and is a member of the American Academy of Actuaries.
Kawasaki: Mr. Kawaguchi, I heard you were deeply involved as the secretariat in the operation of the Web3 Research Society. Are there any specific points in the report that you would like to emphasize?
Kawaguchi: I believe there are two main points. First is the breadth of coverage in terms of the themes. When considering which areas to address, we discussed not only digital assets focused on NFT, but also topics such as DAOs and decentralized identity (DID) and how they will develop over the next few years. The second point is the passion for considering regulations. For example, we discussed the approach to regulations and rule-making as the "road" on which we want to drive and promote the use of these technologies, while also ensuring that accidents are avoided. Striking the right balance in setting regulations is challenging, and there have been heated debates on this matter. We were able to consider this balance while keeping both aspects in mind, and I believe the report has become a valuable reference.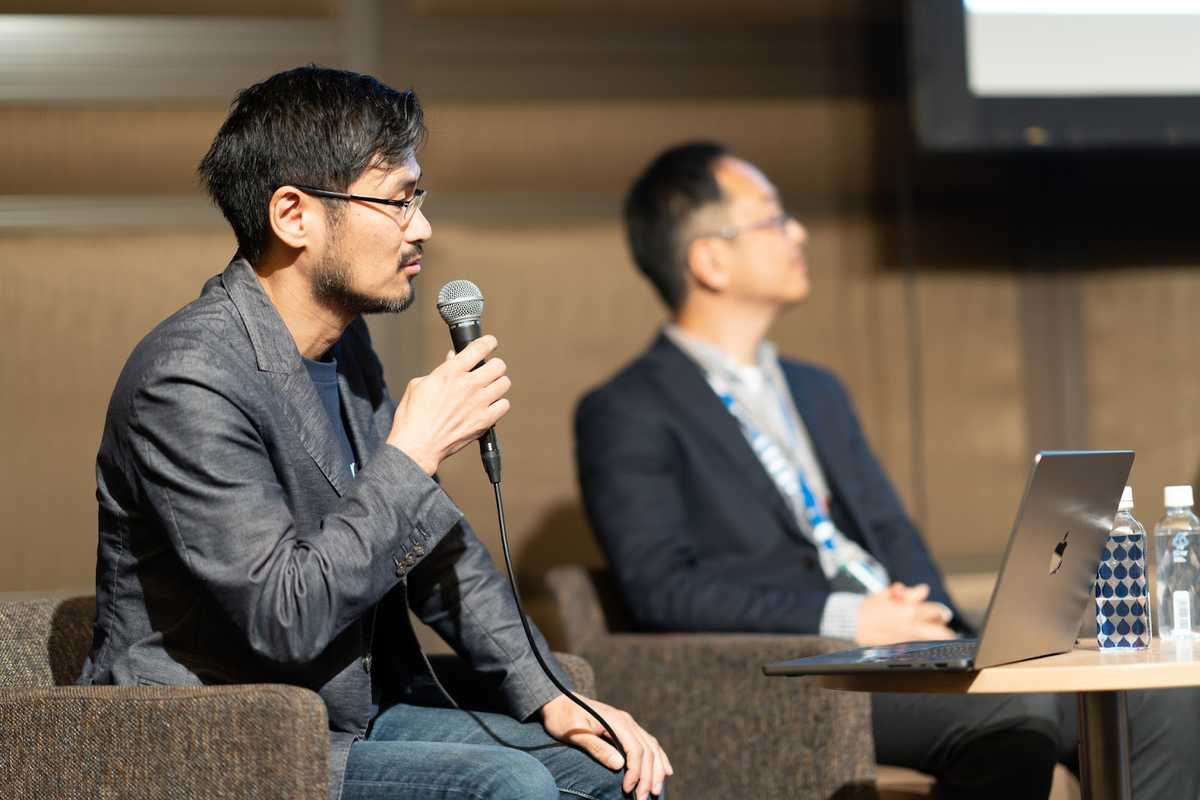 Kawasaki: The concept of anonymous wallets is particularly intriguing, but there are also many concerns. How does the government view this?
Nozaki: It's about how we can add trust to various identities and wallets. It's about how the government can play a role as a national trust anchor. It's also an ongoing topic of discussion on how to adapt to electronic authentication systems like My Number Card.
Kawasaki: There are criticisms that the culture of Web3 contradicts government initiatives. How does the government perceive this?
Nozaki The government believes it is important to play its role as a member of the community and fulfill its responsibilities as a stakeholder.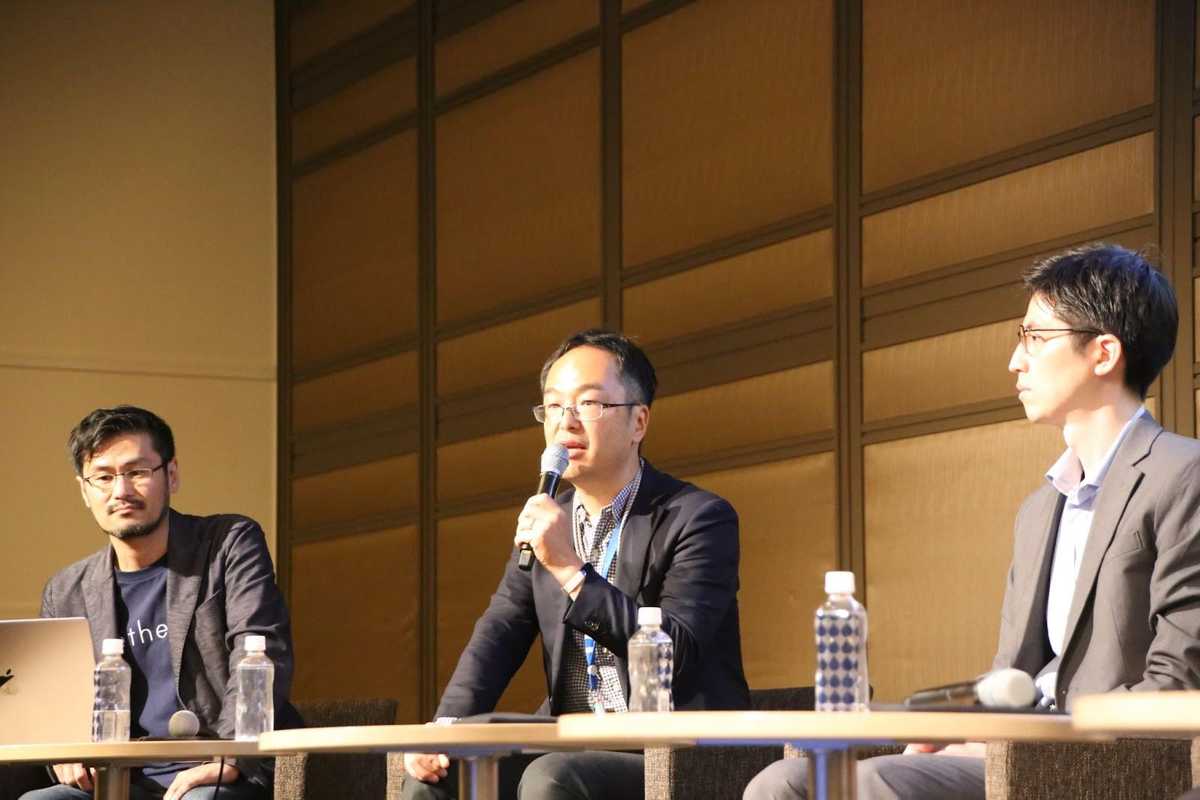 Kawasaki: It is important in the world of Web3 for stakeholders to collaborate, but it can be challenging, right?
Nozaki: First, on a global level, the "Blockchain Governance Initiative Network (BGIN)" was launched three years ago. It provides a platform for academia, government, and various individuals to come together and discuss issues surrounding blockchain, both online and in physical gatherings. Second, we have started initiatives within the Web3.0 Research Society to create DAOs and communicate through their community.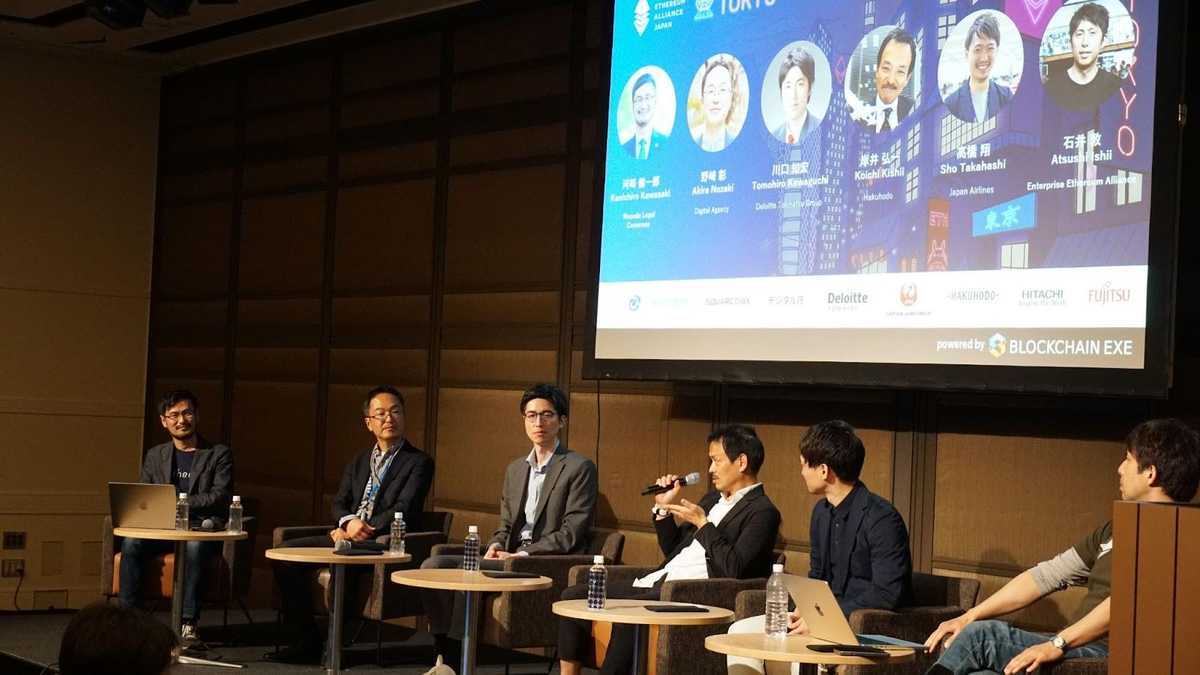 Kawasaki: Finally, I would like to ask each of you for a brief comment on the theme of this discussion.
Kawaguchi: The worldview of Web3 and blockchain has transitioned from the phase of people coming together in enthusiasm for new technologies to a stage closer to societal implementation. From here on, I believe we need to adopt a market-in approach to drive adoption. Japan already has well-established regulatory frameworks, and the government is very proactive, making it truly unique compared to other countries. I feel a tremendous sense of potential.
Kishii: Although we have discussed the context of KOKYO NFT in the tourism industry, I consider the goal to be the digital resident certificate. I hope that both domestic and international individuals can possess a unique proof, like a digital passport. We would like to use NFTs for this purpose, but the current situation presents challenges.
Takahashi: When people hear about NFTs and Web3, they often associate them with the digital realm. However, the projects we have worked on aim to bring new technologies as value to real places and physical communication.
Ishii: Blockchain may play a role in connecting digital and physical services and communications.
One characteristic of Japanese companies is their thorough quality management. Additionally, there is low mobility of talent, which makes it less likely to encounter issues with skill inheritance and security. As a result, there is a relatively lower sense of urgent need for blockchain adoption. Overseas, these issues are more serious, leading to greater progress in blockchain adoption.
On the flip side, if blockchain can establish decentralized management and sharing of data at a level that Japanese companies require, it could become a globally sought-after solution.